Description
Free Shipping on purchases of DryRod

1-2 Days Adelaide
2-3 Days Sydney and Melbourne
3-4 Days Brisbane
5-6 Days Perth
Regional areas may vary
New Stock Arriving 14/06

Dryrod Damp-Proofing Rods are a new high performance rising damp treatment. All that is required to permanently stop rising damp in your property is to drill holes along a continuous mortar course and then insert the damp-proofing rods. The rods will distribute water-repellent material along the mortar, using our patented delivery system, and then cure to form a damp-proof course. The wall will then dry out. No fuss, no mess and no stress.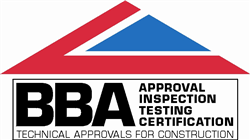 The patented rod delivery system is not only faster, cleaner and easier than other forms of rising damp treatment, making it suitable for DIY damp proofing, it is also more effective. Unlike previous methods, which require measured application with specialist tools, a Dryrod Damp-Proofing Rod of the specified length will deliver the correct dosage every time. A wall treated with our damp-proofing rods is also over four times more resistant to rising damp than the next best treatment method.
Dryrod – the premium rising damp treatment.
How to Install Dryrod Damp-Proofing Rods
Dryrod Damp-Proofing Rods are the easiest, quickest and cleanest way to eradicate rising damp. The photographs below demonstrate how easy the damp-proofing rods are to install.
We always recommend that you speak to a professional to determine whether or not it is necessary to replaster.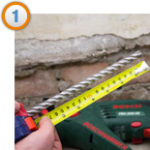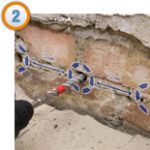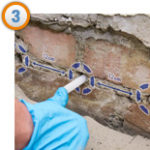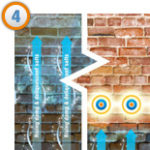 Coverage
Each pack will treat 12.5 metres of 110mm wall.
Number of packs required per 5m stretch of wall:
| | | | |
| --- | --- | --- | --- |
| Wall depth | 4½" (110mm) | 9″ (220mm) | 13½" (330mm) |
| Number of packs per 5m | 2 | 4 | 12 |
For walls over 330mm thick, please call 0402 278 053 for advice.
Product Benefits
The most effective form of rising damp treatment available
Extremely quick and simple to install
No specialist equipment required
No mess to clean up
Delivers the correct dose every time
Permanent eradication of rising damp
Proven to work on highly-saturated walls (even up to 95% saturation)
Low-hazard
· BBA-approved
* If purchasing DryRod 10 Rod Pack, you will receive free shipping. If you also purchase DryZone or the applicator nozzle, you will be charged the standard shipping fees.